Seeing is a critical skill for the representational artist. Nature is full of so much information that it can often be overwhelming to paint. To paint the landscape, the artist must learn to see the important elements and nothing else! This intensive, 4-day workshop will focus on how to see. There is a direct correlation between proficiency with the fundamentals and the ability to see as an artist. Some of the fundamental skills discussed will include: seeing the abstract patterns and shapes, seeing the value and color relationships, seeing light, seeing edges, seeing relationships that occur in nature, seeing textures, seeing volume of mass, etc.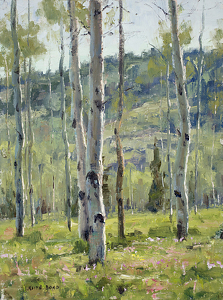 Wildflowers Among the Aspen, by Keith Bond
Everyone sees in a unique way. What I see will differ from what you see, even when looking upon the same scene. We will discuss how to interpret your emotional response to the scene by understanding what and how you see. Once you understand what you see and why you respond to the scene, you can then paint a more meaningful expression of the landscape.
We will paint on location daily. With the class size limited to 15 students, there will be plenty of one-on-one attention. The workshop will begin with a lecture on the first day and conclude with a group critique on the last day. The workshop is open to serious artists from beginner to professional.
Registration Now through Steamboat Art Museum.
Workshop is held in beautiful Steamboat Springs, Colorado. Set in a beautiful mountain valley, painting opportunities abound everywhere. The scenery is absolutely spectacular with quite a variety of possibilities. This is one of my favorite places to paint - and I have painted all over Colorado. The town itself is a ski resort town in winter. During the summer, hiking, biking, fishing, tubing are just a few of the many things to do here.
Join us in Steamboat! Register Now