What is the value of color? This is actually a play on words. To most people, this question would trigger thoughts on how color influences mood or creates harmonies. However, there is an underlying value to color that, to me, is much more important. That is its value in terms of grayscale.

'Value' is a word used to describe how light or dark a color is. So the restated question would be 'how dark or light is the color?'
Looking at paintings in black and white is quite revealing. You can determine very quickly how strong or weak the composition is. Color can often be distracting, inhibiting your ability to see some of the more important underlying compositional elements.
For an artist, the grayscale is divided into 9 steps from black to white. However, if every value of the grayscale were used in a given painting, that painting would lack strength. A strong or dynamic composition is limited to 3 or 4 values. No more. They should not be found in equal proportion. One value should dominate with a secondary, and tertiary, etc.
This is closely tied to composition or design, because the abstract shapes which make up the underlying design are nothing more than an interesting arrangement of pieces of varying size, shape, and values. These shapes fit together like a jigsaw puzzle.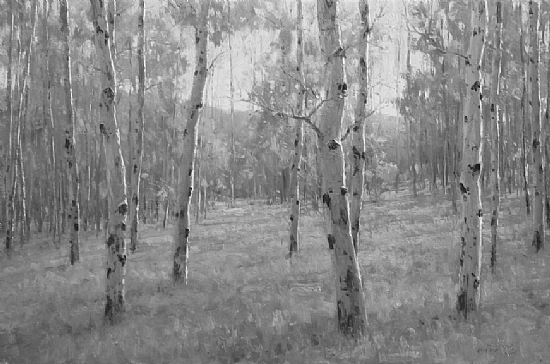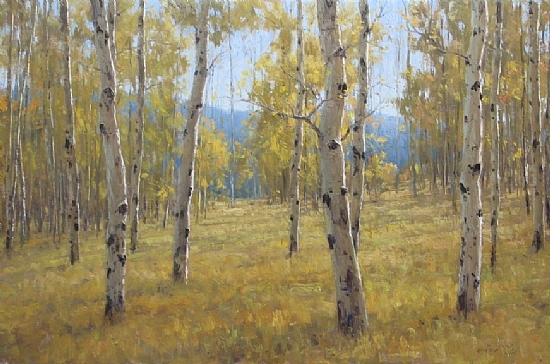 "Aspen Interior" by Keith Bond, 24 x 36, oil on linen

Study the black and white and full color images of this painting. You will notice that the dominant value is found in the foliage of the distant trees and in the core shadow of the aspen trunks. This value is also found in the cast shadows on the ground plane. The secondary value is the sunlit ground plane and the small spots of light on the foliage. Next comes the value of the sky which is also found in the highlights on the edges of the aspen trunks. Lastly there are just a few dark accents which make the entire painting work.

The three main values create a strong composition and hold the work together. Notice that the blue mountain and golden foliage have the same value. It is a difference in the color and color temperature which creates the depth. Also notice that differences in color temperature are what make the aspen trunks turn. It gives volume or dimention to the work. But that is another topic for another time.

Remember, strong compositions are limited to 3 or 4 main values of varying dominance.

Sincerely,
Keith Bond