I have been a huge fan of LeConte Stewart's art for many years. LeConte (1891-1990), depicted his native Utah how he saw and experienced it. He didn't seek out the grandiose. Neither did he embellish his landscapes. Rather, he found delight in showing the beauty of the ordinary. He said:
"Each generation has its own standards; what is good today may not satisfy tomorrow. Honesty with oneself should help, for after all only that survives which rings true in the hearts of humanity. Witness the work of Shakespeare in literature and Rembrandt in painting. Both of them pictured life as they knew it and saw it and were not concerned with the passing fad. Each was true to himself. Why cannot a man do that today? If he can and does, I believe his work will live." - LeConte Stewart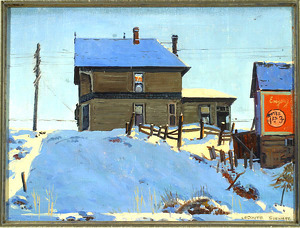 House by the Tracks, by LeConte Stewart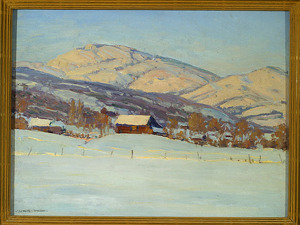 Barn in Snow, Liberty, by LeConte Stewart
On view in Salt Lake City, Utah are 2 exhibits showcasing different aspects of his work. These exhibits run through January 15, 2012. Focusing on his rural Utah landscapes is the exhibit at the Church Museum of History and Art in downtown SLC. At the University of Utah Campus in the Utah Museum of Fine Arts is an exhibit focusing on LeConte's Depression Era paintings. Between the 2 shows, over 200 of his original paintings and drawings are on display.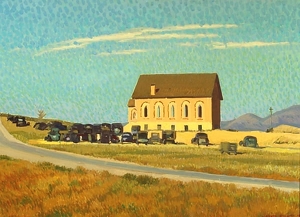 Country Funeral, Porterville, by Keith Bond
I was finally able to see the show when we were in Utah over Thanksgiving. His work is stunning to see in person. If you have reason to visit Utah before the middle of January, I highly recommend visiting the exhibits.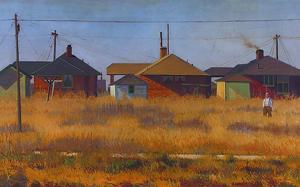 The Smith's, the Jones', and the Brown's, by LeConte Stewart
LeConte is a master at capturing the subtle hues in nature, applied with impressionistic strokes of paint. He studied under master landscape instructor, John F. Carlson in the early 1900's. Throughout his life, LeConte painted en plein air and taught art in Utah. He was very influential among many of the Utah artists working today. I was never privileged to study with him, but I have studied his work for years.
One of the highlights of the Rural Landscape exhibit was a series of paintings depicting the same farmstead in Morgan Valley. Over the course of several decades, at different times of day and in every season, LeConte continued to return to this site to paint. Each time, he found something new that excited him. On display were 5 or 6 paintings of this farm. The two paintings shown below are from this series. Some of the others depicted the farm from various vantage points. But 3 or 4 of them were basically the same compositon. Yet, each one is somehow fresh and unique.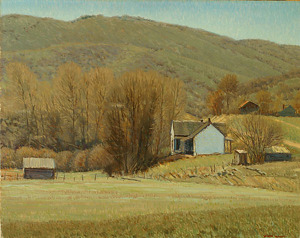 Autumn, Peterson, Utah, by LeConte Stewart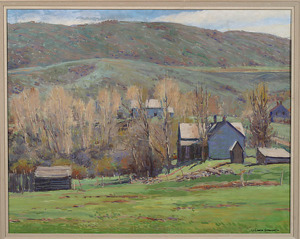 Springtime, Morgan Valley, by LeConte Stewart
Most of you from anywhere other than Utah have probably never heard of LeConte Stewart. He is under-recognized in the rest of the country. In my opinion, he is one of the Greats of American art. His work captures the soul of what he painted. His voice was one of authenticity.
For those of you who are unfamiliar with his work, I feel that it is worthy of study. A new coffee table sized book of his work will be printed later this year. Click here or on the image below for more information about the upcoming book. I hope that the book along with these 2 exhibits in SLC will help propel him to the national recognition that he deserves. And I hope that you have gained an appreciation for a great painter of the American West through this little blog post.