Both plein air and studio painting are important to me. Ultimately, the goal of my work is to communicate with the viewer. I can achieve this both in studio works and in plein air paintings. But each has its purposes and limitations. I'll list some of the pros and cons of each here.
Plein Air Painting
Pros
• I am responding to the scene at the precise time I am inspired by it
• The response is an emotional response
• I am experiencing the scene with all of my senses
• Limited time results is identifying the important elements of the scene and eliminating the superfluous details
• Fresh, spontaneous paintings full of life
• I can see the accurate color and value relationships
• I can see atmosphere and can capture what is really happening in any weather condition
• There is 360º worth of information to borrow from
• I love being outside - especially away from civilization
Cons
• Too much visual stimuli - it can often be overwhelming, hard to focus, and it's easy to put too much in the painting
• Also, with so much visual stimuli, it can be difficult to understand what elements of the scene I am inspired by
• Limited time can sometimes result in an unfinished painting
• With so much visual information, and with such limited time, it is common to have a less-thought-out design
• Weather can sometimes be an issue for some, though I enjoy painting in all weather conditions
• Distractions from whatever is going on where you are painting
Ironically, each of the cons comes from the very points that I consider pros. This is, in part, where studio work fits in.
Studio Painting
Pros
• I can improve a plein air painting that didn't work
• I can use the plein air as inspiration for a new idea that didn't occur to me in the field
• I can explore other ideas, emotions, or themes in my work; using the landscape as a metaphor
• I can rearrange the composition to be more expressive or powerful based upon the idea I want to convey
• I can push colors or values to likewise be more expressive
• Time enough to work through all these things and finish the painting
• Paintings can be more refined
• Can employ more painting techniques than is possible en plein air - chosing the appropriate technique to convey the idea
• Comfort
• Music helps me get into the zone
Cons
• Too much time - it is easy to take a painting too far
• As a result, it is easy to loose the sponaneous, fresh look that gives a painting life
• I must rely solely on memory, imagination, and plein air/photo references - I am one step removed from what inspired me about the scene in the first place
• As a result, especially if I don't tap into my memory and imagination, there can easily be too much reliance upon photos and/or merely trying to enlarge a plein air study
• Distractions from other tasks
• I dislike being couped up indoors
I now no longer care if I have finished plein air paintings. When I do get one that I consider finished, that is icing on the cake. But my approach is to simply respond emotionally, capture the true colors, light, value, atmosphere, etc. And then move on to another scene to paint.
When I am in the studio, I look through my plein air studies and photographs until I get a spark of an idea. I then create several thumbnails to explore the various ways to interpret the idea. I will often use 4 or 5 plein air studies to inform me when working on a single studio piece (as was the case with the painting, Provo River Autumn, above). Sometimes they closely resemble the original plein air. Sometimes they are drastically different. But each studio piece is an expression and is seldom simply an enlargement of a plein air piece.
My new instructional DVD - From Plein Air to Studio illustrates my process.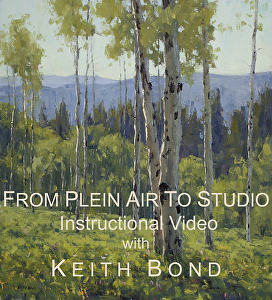 For more info and to order your copy, click here.
Free shipping offer valid through the end of May, so don't delay.